Seamap Streamer Accessories
A range of marine brass Weight Collars used to replace the old style lead ballast. Our new collar design can be attached to streamers in seconds providing a cost effective solution for operators to ballast or re-ballast individual sections consistently and reliably. Weight Collars are available in an easy to mount hinged model with a single captivated screw. The Stainless Steel Screw helps to prevent future effects of binding and corrosion. Marine brass has been chosen to withstand the corrosive saltwater environment. Collars are available for most industry standard streamer OD.'s in both 0.5 Kg and 1.0 Kg weights.

Seamap also supplies a range of enhanced Weight Collars over-molded with rubber which provide additional protection during deployment and retrieval of streamers. Suitable for use on oil-filled as well as solid streamers, the tapered design offers reduced damage and punctures, eliminates the need for additional rubber collar protectors. Single screw attachment facilitates quick assembly on streamers.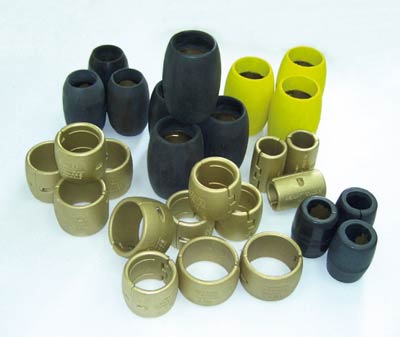 The rubber protectors are designed to protect the streamer from potential damage caused by bird collars, weights and digital modules when it is being wound onto the streamer reel. The protectors are molded to fit snugly over the collars, weights or modules and are fitted with Velcro™ straps to allow easy attachment to, or removal from, the streamer during retrieval or deployment.

Seamap offers a complete range of protectors for various streamer sizes for the common bird collars, weights and digital modules typically available ex-stock from our worldwide locations.

Custom sizes and shapes are available at affordable prices on request.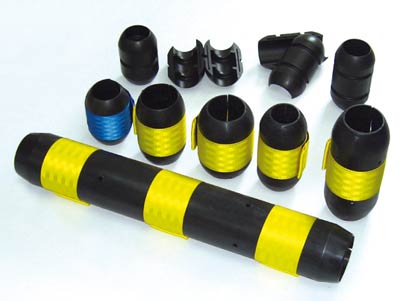 Bird/Retriever Safety Harness
Seamap manufactures Safety Harnesses in various lengths and load ratings. While the breaking strength of the rope used in the harnesses is in excess of 2,500 Kg. the actual breaking strength of the entire assembly is dependent on the metal clip.

The basic harness is supplied with a 60 mm hook and has a breaking strength of 450 Kg. while the strongest harness is fitted with a 90 mm clip and has a breaking strength of 1,800 Kg.

A range of harnesses are available ex-stock from our worldwide locations and special assemblies can be fabricated to order in a short time.