SeaLink 24 Channel Tension Module
Seamap's SeaLink 24 Channel Tension Module is designed to complement the SeaLink 24 Digital Modules and provide cable tension readings along the cable in the SeaLink 3840 Recording System. The SeaLink 24 Channel Tension Cell Modules are designed to be placed in the head, middle and tail of the cable. Tension readings of each tension module are displayed in real time by the SeaLink 3840 Recording System.
The SeaLink 24 Digital Module is the base building block of the system and is powered via a 750 mA DC constant current loop. The 24 channel analog input is capable of sampling at ¼, ½, 1, 2 and 4ms via 24bit delta sigma converters. Digitized data including data from other modules in the array are transmitted to the recording system via Seamap's proven proprietary telemetry system over common electrical twisted pairs. The power, control, data acquisition and systems diagnostics of the modules are performed via the SeaLink workstation on the recording vessel / platform.
The SeaLink 24 Channel Tension Module is enclosed in a 3.0" (76.2mm) OD titanium tube with end-caps. The SeaLink module has a crush depth of 6,925m. The Seamap custom SeaLink 56 pin connector has proven reliable and durable in the harshest environment. All SeaLink Modules have double O-Rings and are Nitrogen filled to ensure mechanical integrity.
The SeaLink 24bit Data Acquisition Systems is based on proven technology and can be configured for many applications including marine seismic data collection.
Custom designs and customizing SeaLink Modules are available upon request. All exposed in-sea metals are titanium.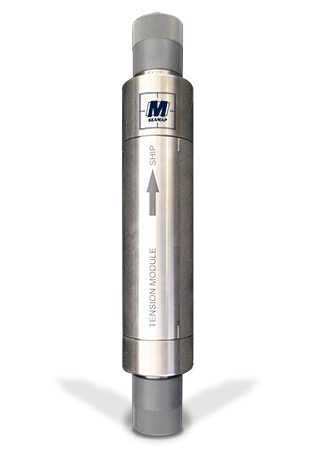 24 Channels in one Module with Tension Cell
Selectable Gain
Selectable Low Cut and High Cut Filters
Lower Power Consumption
High Channel Capacity – 480 Channel @ ¼ ms per Array
Continuous Data Collection
Sample Rates of ¼, ½, 1, 2 & 4 ms
Reduced Component Count
Marine 2D / 3D / 4D Seismic
High Resolution Seismic
Ultra High Resolution Seismic
HR3D Ultra High Resolution Seismic
Ocean Bottom Cable (OBC)
Vertical Arrays
Reservoir Monitoring
Passive Acoustic Seismic
Passive Acoustic Monitoring