Seamap offers a full range of services ranging from the provision of offshore and in field support engineers to office based engineering and production services. The engineering services are fully described below.
In addition to engineering services, Seamap also offer repair and support of the following:
Terminate a wide range of Seismic Air Gun Umbilicals with its in-house design or client specified terminations both onshore and offshore
Provides a Depth and Pressure Transducer calibration service
Offer service and repairs to all of the Seamap product range
Acoustic transponder and LRT release unit repair
With the broad capabilities and experience of our in-house design and manufacturing teams, Seamap can provide unique support for the full range of offshore activities. This ranges from providing support for existing products, (our office locations enabling 24/7 worldwide coverage), to providing complete engineering solutions from an idea or conceptual design.

Our manufacturing department is located in Singapore. End products are of high quality and are delivered in the shortest possible timescales. By maintaining a highly skilled workforce of permanent employees, our customers benefit from years of retained experience and knowledge. This approach has attributed to Seamap's success with repeat clients approaching Seamap time and time again for both engineering solutions, product support and post-design services.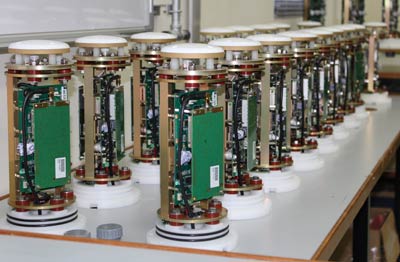 Digital and analogue circuit design
Specialisation in electronics in subsea / marine environments
Control and sensor telemetry
Logging and recording devices
Positioning systems
DC power transmission systems
High power switching units
Electronics enclosures – rack mounted and harsh environments
Subsea enclosures – shallow water to full ocean depth
Deployment and recovery systems
Marine seismic float systems
Umbilical terminations and Bend restrictors
Finite Element analysis and simulation
Source controller and BuoyLink software
Firmware coding