Designed to generate power for charging batteries frequently used on Marine Seismic towed equipment, the Ampair UW100™ manufactured by Seamap is a powerful and efficient solution, providing 100W continuous battery charging power at 8 knots submerged tow speed.
The Ampair UW100™ underwater generator has been manufactured commercially by Ampair in the UK for 20-years – Seamap acquired the intellectual property and manufacturing rights for the product in February 2015.
The Ampair UW100™ is a three-bladed turbine intended for use in fast flowing water and is ideally suited to the demands of Marine Seismic Exploration – generating a maximum of 100W of DC current at 12V or 24V to charge batteries – whilst being towed behind the seismic vessel.
The radial flux permanent magnet generator is housed within a pressure compensated oil filled cast aluminum casing. The casing is sealed with dual redundant seals throughout and there are only two transits into the generator section: one for the turbine shaft and one for the electrical cable. The turbine is bi-directional but because of flow obstruction by the body it is most efficient if facing into the water flow.
For all Ampair Inquiries, contact:
Seamap (U.K.) Limited
Unit 34, The Maltings, Charlton Estate
Shepton Mallet
Somerset BA4 5QE United Kingdom
Phone: +44 (0) 1749 342223
Fax: +44 (0) 1749 347588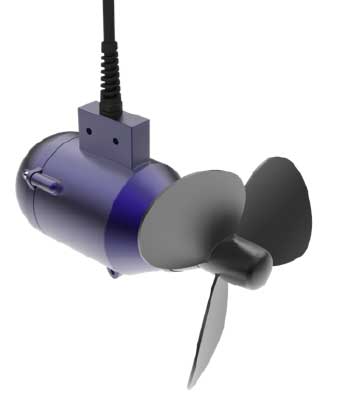 UW100 Seismic
For use in the Marine Seismic Industry
UW100 Non-Seismic
For use on yachts and similar vessels or in fast-flowing waterways