Available as an option for all GunLink Source Controllers, the Air Control Valve System allows for continued array operation in the event of an air leak from a single gun or air gun pressure line by operator isolating any leaking air gun in the array.
The system comprises of an integrated valve, electronics module air line manifold and pressure transducer unit for distributing along a sub-array. It provides effective control and isolation of two air guns (in the dual valve cluster configuration), with main line air pressure and the two downstream pressures (after the valves) being recorded and displayed by the system. Integral safety features prevent trapped system pressures.
An ACV Interface (ACV-I) unit provides power and telemetry to eight sub-arrays. The Graphical User Interface (GUI) is fully integrated with the GunLink Software. It provides individual air valve closure or opening data at a glance, including a position representation of valve movement (open/mid/closed). The pressure readings from the integrated transducers are displayed on the GUI alongside the isolated gun or cluster to which it refers.
The large air valve orifice area means that there is minimal pressure drop and throttling of air flow to the air gun.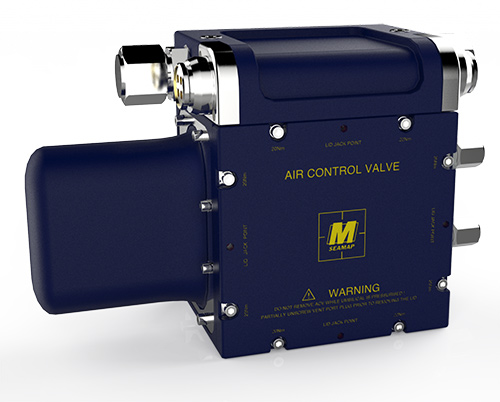 Able to stop air flow to an air gun in less than six seconds
Air valve can be closed and opened at full system pressure (207bar / 3000psi)
Proof pressure tested to 310 bar / 4500 psi
Integrated pressure transducers indicate pressure before and after the air valve
Valve location is sensed to determine if fully opened/closed
Distributed electronics module can operate two air valves
Up to eight distributed electronics modules per sub-array
Different main air line manifold connections available (1", 3/4")
Different air line connections (to air gun) available (1/2", 3/8", 1/4")
Supports up to 16 air guns per sub-array
Relief valves to prevent air trapped in gun lines