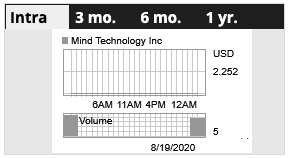 MIND TECHNOLOGY is a leading provider of innovative technology to the marine industry.  We help our customers solve their most challenging problems in the areas of

•    Marine Survey
•    Marine Exploration
•    Maritime Defense

The specific applications we address include the following:

•    Marine Seismic
•    Construction Survey
•    Renewable Energy Survey
•    Search & Recovery
•    Hydrographic Survey
•    Mine Counter Measures (MCM)
•    Anti-Submarine Warfare (ASW)
•    Waterside Security (WSS)

MIND Technology has a global presence and, along with its predecessor companies, has been in business for more than 50 years. Klein sonar products are considered by many to be the "gold standard" in sidescan sonar, having introduced commercially viable sidescan sonar in 1963. Seamap seismic exploration systems offers an extensive range of marine seismic products based on leading edge engineering design, development and production. We continuously seek to add new innovative capabilities to our portfolio of solutions, products and to find new unique applications and new markets for our existing technology. MIND Technology offers 24/7 worldwide support for all product lines.